A business market is a tactic used to sell products or services to a specific customer base. When one business plans to reuse or resell the products or services of another business, business markets typically facilitate sales between businesses.
A company that purchases goods and services on the open market is also permitted to use those purchases as raw materials to develop original products. Business markets that are designed to make sales to consumers directly also emphasize reaching a broad audience rather than marketing to other businesses.
What is the Purpose of Business Market:
The purpose of marketing can teach a business how to sell and market to specific consumer demographics. When you work in sales, knowing the various types of business markets can help your company decide which kind of marketing is most likely to be successful.
In order to adjust your sales and marketing strategies to focus on the markets that will be most beneficial to your company, keep track of how business markets are evolving as they expand. We define a business market in this article and give examples of various kinds of business markets.
Features of good Business Markets: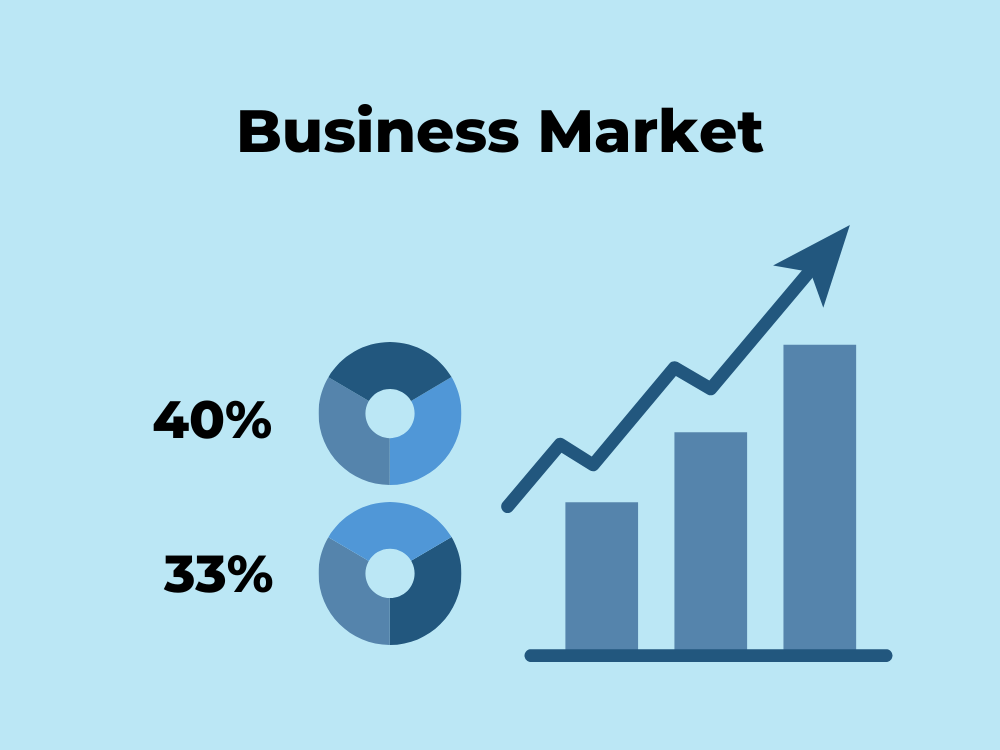 Typical features of the business market include the following:
· Business markets frequently cater to a more niche consumer market with substantial buyers.
· Business markets can help companies that are geographically separated from one another conduct business.
· Business markets' demand is constant and unaffected by price changes.
· Depending on how many customers buy a final version of a product, business markets expand and contract.
· A business market may have multiple buyers for a single purchase.
· A high level of professionalism is necessary when marketing and selling in the business world.
· Purchase decisions in business markets can be more difficult than those in consumer markets.
· A formal process is followed when making purchases in a business market.
· Long-term professional relationships between buyers and sellers are facilitated by business markets.
Different Business Markets Categories are:
1. Industrial Markets:
A company most likely operates in an industrial market if it sells goods or services used in production or industrial projects. Instead of selling their products directly to customers, most businesses that operate in an industrial market advertise and sell to other businesses.
This is due to the fact that industrial goods and services are typically not suitable for use by individuals and are more useful to businesses that can repurpose them to complete other projects. Industrial markets are often considered one of the smallest business markets, as their products and services serve smaller groups of consumers instead of large consumer demographics.
2. B 2 B Markets:
Instead of marketing to consumers directly, businesses that use business-to-business markets advertise and sell their products or services to other businesses. The business that purchases goods and services in a business-to-business market frequently recycles or resells them, and occasionally uses them as raw materials to create new goods. While some businesses that engage in business-to-business transactions might also deal with consumers, the majority of them concentrate on selling their goods and services to other businesses.
3. Service Markets:
When a company promotes and sells services rather than products, it is said to be operating in the services market. Businesses that operate in the services sector can also operate in the business-to-business sector if they sell primarily to other businesses, or the business-to-consumer sector if they do so more frequently. Depending on the service a company provides, such as whether it's a service that helps individual customers or whole businesses, this may be the case.
4. Business to customers Markets:
A business-to-consumer market involves businesses advertising products directly to customers for purchase. The business-to-consumer market is usually identified as the biggest type of business market, as it caters to the largest group of potential consumers. This is due to the fact that businesses that cater to consumers design their campaigns with the general public in mind as well as certain demographic subgroups within the population, such as various age groups, genders, or interest-based groups.
5. Professional service Markets:
A market for professional services facilitates the promotion and sale of services from specialized professions. Businesses that provide professional services typically have some sort of licensing or certification that allows their businesses and employees to work in their field because they offer specialized work. Some companies in a market for professional services may provide products and services that are advantageous to both individual customers and entire companies, and as a result, they may occasionally engage in both business-to-business and business-to-consumer activities.