With the least effort, inbound marketing has been hailed as the best way to bring in more leads and customers. With the advent of social media, content marketing, and search engine optimization, this approach can be highly effective in the UAE, where most people are active on social media and look for local services through search engines like Google. This post will discuss setting up your inbound strategy to grow your business in Dubai and Abu Dhabi without spending much money. These methods are tried and tested by some of the biggest brands on the web, and you can use them too!
What is inbound marketing?
Inbound marketing is a holistic and statistics-driven approach to advertising that draws, engages, and delights customers. It's rooted in providing value at every customer journey stage, from awareness to purchase. Or, Inbound marketing is a marketing strategy that focuses on attracting visitors or customers to a company's website or web presence from outside sources. Inbound marketing is different from outbound marketing, which is the traditional marketing strategy that relies on advertising and contacting customers based on their needs or wants.
Here are the best strategies for inbound marketing in the UAE: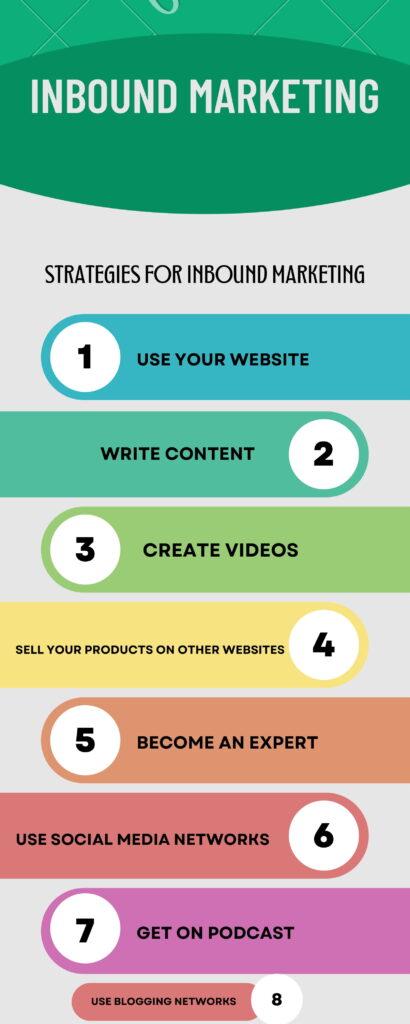 Use your website
Write Content
Create Videos
Sell your products on other websites
Become an Expert
Use social media networks
Get on Podcast
Use blogging networks
1. Use Your Website:
 If you're looking to get started with inbound marketing in the UAE, you should keep a few things in mind. First, make sure your internet site is up to par. A well-designed website is essential for capturing leads and driving conversions. Here are a few tips to ensure your website is optimized for inbound marketing.
Make sure your website is mobile-friendly: with over 80% of internet users accessing the web on their smartphones, it's more important than ever to have a site that looks great and functions well on smaller screens.
Another essential element of an optimized website is fast loading times. If your pages take too long to load, potential customers will likely click away before seeing what you offer.
2. Write Content:
1. To succeed with inbound marketing, businesses must have a plan and clear goals.
2. A blog is a great way to attract organic traffic and generate leads. Be sure to post quality content that is relevant to your target audience.
3. Utilize social media platforms, such as Twitter, LinkedIn, and Facebook, to promote your content and build relationships with potential customers.
4. Use data-driven methods to analyze your results and adjust your marketing strategy.
5. Creating attractive and compelling offers is a vital part of inbound marketing. Be sure to offer something valuable to your target customer.
3. Create Videos:
There are a few key things to remember when creating videos for inbound marketing in the UAE. First, consider the culture and what types of messages will resonate with your audience. It's also essential to keep your videos short and to the point- no one wants to watch a long, boring commercial. Finally, make sure your videos are high quality and professional looking- this will help give your brand a good reputation.
4. Sell your products on other websites:
1. Establish your presence on other websites popular in the UAE. This will help increase your visibility and reach potential customers who may not be aware of your business.
2. Ensure your website is optimized for engines like google so that people can easily find it when looking for products or services.
3. Create valuable content that will appeal to your target audience and help them solve their problems. This could include blog posts, infographics, ebooks, and more.
4. Use email marketing to reach out to people who have signed up to receive information from you.
5. Use social media networks:
 You're missing out on a massive opportunity if you're not using social media to market your business in the UAE. With over 90% of the population online, social media is one of the best ways to reach your target audience. Use social media to promote your enterprise and engage with potential and existing customers. Platforms like Twitter, Facebook, Pinterest, and Instagram are all popular in the UAE.
6. Become an Expert:
To be successful with inbound marketing, businesses need to have a few critical components in place:
They need a solid website optimized for search engine ranking and user experience.
They must create valuable content that will attract and engage their target audience.
They must use social media to promote content and build relationships with potential customers.
They need to track their results and adjust their strategy.
7. Get on Podcast:
Podcasts are a great way to reach out to potential customers in the UAE. Being featured on popular podcasts can increase your brand awareness and get your name out there. Plus, potential customers can get to know you and your business better, leading to more sales down the line.
8. Use blogging networks:
Businesses in the UAE can use blogging to reach a wider audience and build their brand. Businesses can attract customers and convert them into leads by creating compelling content. Additionally, by engaging with customers through comments and social media, businesses can create a community of loyal customers. To attract customers from the UAE, you must have a strong presence on blogging networks.
The Top benefits of inbound marketing in the UAE:
Inbound marketing is a great way to reach new customers and grow your business. The UAE is a booming market, and businesses have plenty of opportunities to succeed. Here are the top benefits of inbound marketing in the UAE.
1. Helps you reach your target market: Inbound marketing helps you target your audience more effectively, which is essential in a country as large and diverse as the UAE.
2. Increases brand awareness and online visibility: With so many businesses competing for attention online, inbound marketing can give your business the boost it needs to stand out from the crowd.
3. Users can also get benefits from the two most effective types of inbound marketing,
Cost-effective: Inbound marketing is one of the most cost-effective ways to reach your target market.
Results-driven: Inbound marketing is a results-driven approach that allows you to track and measure your success.
Check out beneficial inbound marketing techniques in the UAE:
HubSpot is an excellent resource for inbound marketing, providing tools to help with everything from keyword research to creating and optimizing content. Plus, their blog is full of helpful articles on inbound marketing topics.
Pardot is another excellent option for businesses looking for an all-in-one marketing solution. In addition to inbound marketing features, they offer CRM and email marketing capabilities.
If you're specifically looking for help with lead generation, LeadPages is a great option. They offer templates, landing pages to capture leads and other tools to help you close more deals.
Another tool that can be helpful for lead generation is LinkedIn Sales Navigator.
Disadvantages of inbound marketing in UAE:
1. The cost of inbound marketing can be high, especially if you're outsourcing the work to an agency.
2. You must clearly understand your target market and what they're looking for before starting an inbound marketing campaign.
3. Inbound marketing takes time to see results, so it's not ideal if you're looking for immediate results.
4. You need to be prepared to commit long-term to an inbound marketing strategy; it's not something you can do for a few weeks and then stop.
5. Measuring the ROI of inbound marketing can be challenging, making it difficult to justify the costs.
How to find the right inbound marketing company in UAE?
There are a few things to consider when choosing an inbound marketing company in the UAE:
You'll want to ensure that the company has experience working with businesses in your industry.
You'll want to see if they have a strong track record of results.
It would help if you asked for case studies and references from past clients.
You'll want to ensure they have a solid understanding of your business goals.
You should ask about their process and what kind of support they offer.
You should make sure that they're transparent about their pricing.
It would be excellent to invite approximately their policies and procedures for handling customer data.
Final thoughts :
Why is inbound marketing a must for businesses in the UAE?
Because it's an incredibly effective way to reach your target market, plus it's a great way to build brand awareness and credibility. At last, if you're doing business in the United Arab Emirates, you need to be aware of the power of inbound marketing. This manual will come up with the top pointers to ensure your business is booming in this market.